With the rise in need for manufacturing production and the reduction in manufacturing workers, more and more companies are turning to automated solutions around the world. For these companies, it remains difficult to determine exactly which type of automated solution is best for their company.
With our experience at ASI Drives, we will break down the differences between an automated pallet mover and an automated forklift to help make your choice easier.
What is an Automated pallet mover?
An automated pallet mover is an example of an automatic guided vehicle (AGV) whose sole purpose is to transport pallets of material to and from specific locations in the warehouse. In many cases, this was a role that used to be done by workers using forklifts. By using an automated pallet mover, these workers are freed up to work on more high value tasks in the manufacturing process.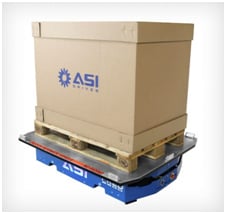 Typically, automated pallet movers do not have forks and are not able to move pallets up and down. In a typical warehouse, pallet moving AGVs are used like this:
Pallets are first placed on the AGV.
The AGV follows a pre-designated path to the needed location. This path can be made out of tape and can be changed relatively quickly.
Once the AGV arrives at the designated location, the pallet is removed and placed in the needed location.
Some AGVs, such as the FRED 2500, also have towing capacity in order to easily move containers around the warehouse.
Automated Forklifts
While regular forklifts can be cheaper to purchase and quicker to install, some companies may need more automated equipment. In these situations, they are turning to automated forklifts. An automated forklift typically resembles a regular forklift with additional sensors attached to enable automatic operation. Automated forklifts were developed in response to the high operating costs of forklifts. In fact, several industry organizations have reported that labor costs account for more than 70% of the total cost of ownership for a forklift.
One of the clearest advantages of an automated forklift system is the ability to move pallets throughout 3D space. This gives these automated systems the capability to autonomously fulfill order picking, material handling, and other more complicated systems. In addition, some automated forklifts have the capability to be operated in manual mode in order to give the entire system more flexibility.
This added capability does come at an extreme cost though. Most automated forklifts can be up to 3x the cost of an automated pallet mover. For many companies, the added cost does not make financial sense.
Below, we compare automated pallet movers against automated forklifts across 5 different criteria: installation, cost, functionality, safety, and ease of use.
Automated Pallet Movers vs Automated Forklifts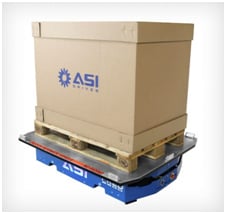 Installation
Easy– an entire system can be installed in less than 3 hours. Warehouse workers can easily maintain the system.
Medium/Difficult– An automated forklift typically requires multiple consultations prior to installation. If desired to use within complicated systems (such as order fulfillment), other automated systems will be required as well.
Cost
Low– Automated pallet movers are typically between $30 to $40k and require little additional infrastructure.
High – most systems will be upwards of $100,000 and require a large amount of supporting infrastructure.
Functionality
Medium – With a clear and defined role, automated pallet movers excel at repetitive tasks such as material handling throughout the warehouse.
High – capable of transporting pallets in 3D space and autonomously fulfilling orders.
Safety
High – few moving parts and a defined path make automated pallet movers very safe and make workers feel safe working alongside them.
Medium – While automated forklifts have safety systems, many workers can feel unsafe working alongside an automated forklift, impacting overall productivity.
Ease of Use
High – They are extremely simple to setup and use. Workers can easily change the path of an automated pallet mover.
Low/Medium– With a high installation cost, automated forklift systems typically are more complicated to use.
Automated Pallet Movers vs Automated Forklifts: Which is Best For You?
Many businesses will see immediate efficiency improvements with the installation of an automated pallet mover system. Almost every manufacturing facility or warehouse has simple material transportation needs where it is inefficient to constantly use workers for these highly repetitive tasks.
An automated pallet mover, such as the FRED 2500, can be installed in less than 3 hours and easily maintained. During installation, the operation of the Automated Pallet Mover can be explained simply to workers in the warehouse providing them with a feeling of safety while working alongside it. Additionally, owners will quickly see a ROI by having the automated pallet mover handle routine tasks up to24 hours/day, 7 days/week.
When does an automated forklift system make sense?
With the current costs of an automated forklift system and the required backend infrastructure to support it, it does not make financial sense to install an automated forklift system unless you are moving towards full manufacturing and order fulfillment automation in your warehouse. Once you have the supporting backend infrastructure, an automated forklift system can autonomously fulfill orders and take over all of the material transport needs of your manufacturing facility. In these situations, though, owners must be prepared for the high initial costs and long payback period to see an ROI.
Subscribe to the

Barcoding Robotics Blog SUBSCRIBE NOW