A Brief History of AGVs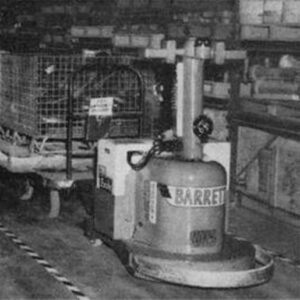 The first AGVs were introduced to industry in the 1950s, by Barrett Electronics of Northbrook, Illinois. It was simply a tow truck that followed a wire in the floor instead of a rail. This innovation inspired more ideas to improve the technology, leading to a new type of AGV, which follows invisible UV markers on the floor instead of being towed. The UV-based system was deployed at the Willis Tower (formerly Sears Tower) in Chicago, Illinois to deliver mail in its offices.
However, the early AGVs on the market were inflexible, expensive, difficult to install and maintain and unreliable. A lot has changed since then. Today they are used in many industries and are flexible, easy to install and maintain and most important—affordable.
AGVs – A Critical Component in Staying Competitive
AGVs are an excellent choice for manufacturers that:
Would like to avoid repetitive motion injuries
Run multiple shifts
Want to cut costs and improve efficiency
Are having difficulty staffing and retaining workers
In fact, with the labor shortage looming and here (an estimated 2 million worker shortage in the coming decade according to Deloitte and the Manufacturing Institute), employers must free up budget to attract and retain skilled positions in order to stay competitive.
Roughly eight in 10 manufacturing executives (82 percent) feel that workforce shortages or skills deficiencies in production roles have a significant impact on their ability to meet customer demand, and 78 percent indicate that it impacts their ability to implement new technologies and increase productivity. Manufacturing executives responding to the skills gap survey indicated that six of every 10 skilled production openings they have are unfilled today due to the talent shortage.
reliableplant.com
Higher salaries for skilled positions are going to become the new norm as older skilled workers retire. That means that expenses need to be freed up in other areas. Replacing unskilled positions with AGVs are one way to ensure that the money is there to keep the lights on.
The Benefits of AGVs for Mid-Size Manufacturers
In this new normal, AGVs become a critical component of manufacturing production lines. While larger organizations have the capital to automate (and likely already have), mid-size manufacturers must now prepare for the growing worker shortage of skilled labor. Investment now in an AGV can quickly return ROI and limit the need for unskilled employees—thereby allowing more investment in skilled labor as competition becomes fiercer in the coming years.
Additionally, AGVs can:
Provide more open floor space than a conveyor and go anywhere that you tell them to
Keep your team safer, reducing the number of injury claims
Keep running—they don't take sick days or require benefits
Reduce product damage
However, initial investment and the technical skills needed to set up and maintain an AGV can be daunting. There are AGVs available at lower costs with simple set up and no need for IT to maintain the system. These systems:
Do not rely on WiFi to work—meaning if the internet goes down, they don't
Do not require programming to know what to do and where to go
Are not connected to other systems so they can't get a virus or be hacked
These AGVs are more "plug and play". Using magnetic tape and long-lasting batteries, they can be set up in no time and running wherever the tape tells them to go. And, with built in safety features, they can help reduce accidents on the floor.
An AGV that is Smart in its Simplicity
Understanding these issues and having been a manufacturer of custom engineered gear drives since 1986, the ASI team recognized the need for a more economical and simple AGV. In fact, FRED's purpose is to assist mid-size manufacturers with non-value-added work while increasing safety and efficiency on the floor. FRED was engineered to remove the cost barrier and complexity of AGVs.
Safe. FRED limits the common risks of moving your products from one area to another. Obstacles and distractions are no challenge for FRED.
Simple. Many AGVs require a high setup cost and a significant software operation, something many manufacturers don't have. But, they still want the benefits of AGVs in their facility. FRED removes both of those barriers.
Productive. With the job market so tight, worker shortages are a real issue in manufacturing. FRED helps keep your team focused and productive by eliminating the need for a person to transport your products.
Flexible. Floor space is at a premium in manufacturing facilities. Because of FRED's size, it leaves more open floor space than a conveyor and its battery charge typically lasts over multiple shifts.
FRED truly is smart in its simplicity. To learn more about FRED and schedule a demo at our facility or yours, visit http://www.fred2500.com/
Subscribe to the

Barcoding Robotics Blog SUBSCRIBE NOW